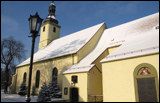 THE TOWN HALL AND THE MARKET SQUARE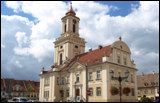 The town hall in the centre of a market square is the most typical one for cities formed in the Middle Ages. It fulfilled the function of a market-place. Tenements which are preserved until now are dated on the turn of the 18th and 19th century. It is the consequence of the great fire which destroyed the whole town on 26th of July 1774. It ravaged also the town hall and the municipal archives. The town hall was raised by a well-known architect Christian Schulz in the 18th century but it has been renovated many times since then.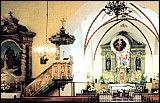 ST. NICHOLAS`S CHURCH
Its history begins in the 13th century when it was consecrated by Wawrzyniec - Wroclaw's bishop. After the great fire, mentioned above, only the presbytery has remained, whose side walls are the oldest, Romanesque part of the present church. Inside it there are the altar and the pulpit from the19th century which make a really great impression. Outside the church, there is a board dedicated to Marshal Jozef Pilsudski. It was built in on the 70th anniversary of the rising II Republic of Poland. Nowadays most municipal religious and patriotic ceremonies take place in this church.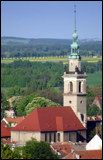 ST. PETER`S AND PAUL`S CHURCH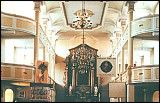 It was raised after the fire in 1774. Before the second world war it fulfilled the function of an evangelical temple. The building, which is built on a rectangular plane, is topped with a high clock tower. It has been independent parish church since 1952.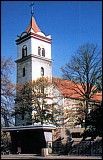 ST. FRANCIS`S FROM ASSISI CHURCH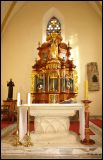 It is dated on the half of the 13th century. The temple was rebuilt in the 15th century and took shape of Gothic architecture. Within the church there are some monuments such as: the pulpit and the main altar from the 17th century, the murals as well as the statuette of Madonna with the Child from the14th century.
Powrót